My day at Kiwikidz
Dear Family, Ever wondered what I am learning all day long?

This is the routine of my day at Kiwikidz and here is what I am learning when I am involved in all these activities…
My teachers know that developing new skills takes time, so they are patient with me and let me explore new ideas at my own pace. They also know that whatever activity I seem to be interested in is just perfect for my own individual level of development. My teachers take rich meaningful observations of my learning.
Welcoming Children
When I am welcomed here, I know that I belong here. I have learned where my belongings go, and how to look after the equipment here. I know that my family is valued and warmly welcomed.
Self directed play
I learn to make my own decisions. I learn perseverance, and to negotiate. I learn how to work at my own pace as well as meet group expectations. I learn how to work as a team when it is tidy up time. I learn about co-operation with other people. I learn how to concentrate on an activity. I learn to feel comfortable in an environment other than my home. I also learn about solitary play and self management and how important it is for me to be able to occupy myself sometimes.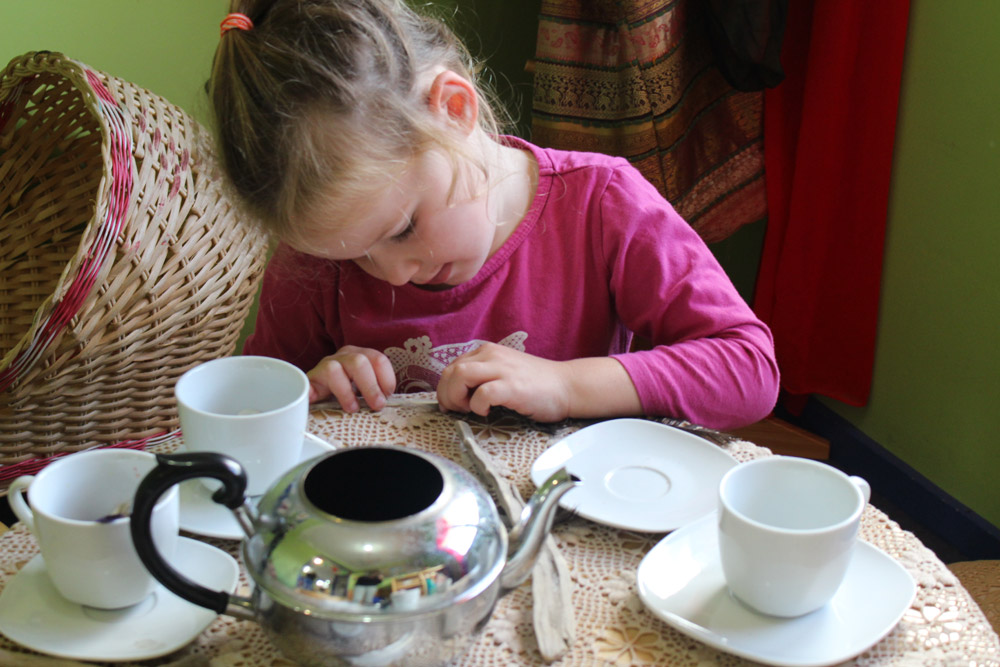 Mat and news time
I learn to listen to what others are saying. I learn how to become part of a conversation. I develop confidence when I stand up in front of my peers and talk about my news. I learn about turn taking and I also develop my language skills through group discussions. I am learning to remember what people have said, so that my memory develops; this helps me retain information. I learn to concentrate for an extended period of time, which will help me learn more easily.
Morning tea/lunch/afternoon tea
I learn table manners and how to say please and thank you. I learn how to make my needs known to those who can help me, but I also learn independence. I am making my own decisions about how much I want to eat and drink. I even develop my fine motor skills when I pour my own water, this will help me to develop the skills needed to write! I help set our tables with table cloths, fresh flowers and sometimes candles and I learn that sitting around a table with food is part of our culture and I learn to respect and celebrate that culture.
Music and movement
I learn about rhythm, tone and pitch. I develop language skills, like how to form and connect sentences and which words rhyme.
I develop a love of language and music especially when my teachers play me music of contrasting genres. I learn how to move and sing or chant at the same time, which is good for my gross motor skill, brain/neuron development, and multi-tasking skills. I learn to enjoy and appreciate music.
Group time (Wha Club) Four year old extension programme
Group time is fun because I get to be with a small group of friends and one of my teachers. We learn to recognize letters and numbers, how to write our names, how to recognize sentences and how text is 'read' from left to right. I get to express my ideas and feelings through drawing and painting and teachers help write down my words in a story, making my voice validated. Demonstrations help me listen attentively and extend my concentration and reciprocated language.
I learn many new skills with my hands.
I learn to extend skills with maths and science such as geometric thinking learning about space, discovering which shapes fit and more importantly which ones don't. Algebraic thinking extends my thoughts of recognizing pattern and problem solving. Statistical thinking lets me sort and classify collections and make new decisions. Numeric thinking is more focused such as counting along a board game. Measurement thinking is emphasised by discussions such as the growth of a plant, cooking or deciding on effective construction ideas. Projects can be continued which lets me evaluate my own learning, I learn continuity, self management and perseverance.
Outside Play
I develop my gross motor skills through climbing, running, bouncing, galloping, walking, skipping and jumping. I learn to explore the natural environment independently and I develop an appreciation for nature that will last a life time.
I learn how to feel happy about getting wet, muddy, dirty, painted, and I need to have clothes on that allow me to do this. I learn about texture when I climb the trees or play in the sand. I learn about volume, weight, counting, measurement, structure, and different natural elements when I am playing with water and sand. I develop a love of the outdoor setting which will help me become a tidy kiwi! My friendships are extended when I negotiate play with my friends. I Learn how to be social and how to join new groups. I learn to make decisions about what kind of play I want to be involved in.
Rest time
I learn that my mind and body cannot have 100% activity at all times or else I will be exhausted. I know I can rest quietly or have a sleep if I need to. I know that there are cosy quiet spaces inside and outside where I can enjoy some quiet down time. I learn how to display respect for those who choose to sleep or rest.
Creative Experience
I learn that art is a means of communication. By painting how I am feeling, or making a collage to represent how I am feeling, I communicate my thoughts and ideas to grown-ups and my peers. I can explore texture and colour. I learn about the process and learn that the end result is not as important as the process. I develop the knowledge that there are many different forms of art. I develop fine motor skills and arm muscles, which will later assist me in learning to write. I learn that my art is special and unique and that I am clever too, which helps me develop a high self-esteem.